Lisa decides to take a hot selfie in her yoga pants at 3:00 in the morning.
To Selfie or Not To Selfie. That is the Question.
I know you know what a selfie is, but what really is a
selfie
? People have been doing selfies for as long as man has had the ability to create images. They used to call them
self-portraits
. What artist do you know of that didn't create at least one self-portrait (artistic selfie).
A Picasso Selfie? - This self-portrait was drawn in 1907 - Experts are stunned by the cell phone in his hand. How did he know?
What is the
physiological drive
behind a
self photo
? Maybe it's the desire to see how you look to the outside world so you take the photo. Then after reviewing the photo and you like what you see, you then decide to
publish worldwide
. Then again, after looking at some
selfies
posted on the Internet. I tend to think there was not much thought put into the process. In any case, here's to all the selfies out there. You had enough courage (or stupidity) to put yourself out there for the whole world to appreciate (or laugh at).
WHY ARE YOU SO SERIOUS?
Why do most models in selfie photos have such a
serious look
on their face?
Answer:
It's simple. It takes lots of concentration to setup and take a selfe photo. The
self-photographer
is usually so focused on getting the photo framed just right that they forget to smile.
Example of "Serious Look"
Example of "Serious Look"
NEXT: SPANISH LESSON FOR TODAY
How to say "Selfie" in spanish. Selfie in spanish is "
Auto-Fotografía
". On the subject of auto-fotografía, here are a couple of fine examples of auto-fotografía.
Example 1 of auto-fotografía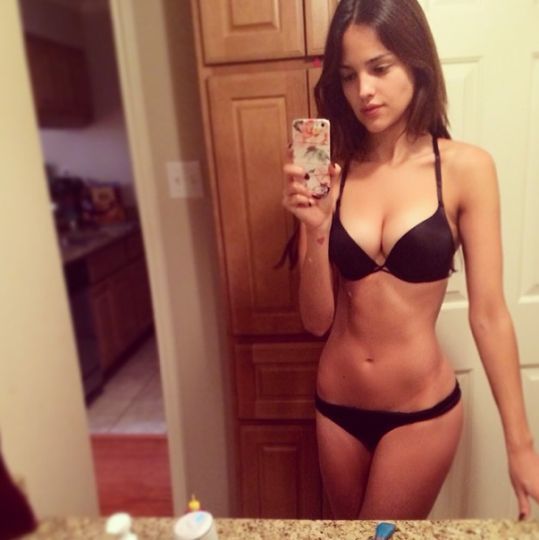 Example 2 of auto-fotografía
RANDOM SELFIE OF THE DAY
What do you think of selfies? Leave a comment.
2014 Linux Beast Magazine - The Linux Beast - Linux Cave
New photo: Here's a hot selfie in yoga pants photographed with her smart phone.
Keywords: Hot Selfie, Yoga Pants